This article is about riding ATVs on the Broken Arrow off-road trail in Sedona, Arizona and talks about where to rent ATVs, how to get to the trail, what the trail is like and what to see along the trail.
---
At a Glance
The Broken Arrow off-road trail in Sedona, Arizona is not very long, but well known amongst off-roaders as a fantastic slick-rock play ground for 4-wheeling. It can easily be completed in half a day even at a very leisurely pace. This is a great way to get access into areas normally reserved for hikers and mountain bikers.
Check out our YouTube Short for a quick 1 minute overview of the trail.

Getting Our Vehicles
We reserved half-day Razor ATV rentals from Sedona ATV for 9:00am. We've used this company several times and they've always been great to work with. There are one or two other ATV rental companies in Sedona as well as at least one company that you can rent Jeep Rubicons from by the day. Sedona ATV offers a variety of Polaris Razor options, but we choose the most basic Razors they had for this trail as even the basic Razors are more capable than the Jeep Rubicons, which are also very capable off-roaders. The Jeeps will do fine on this trail as well, you'll just have to go slower. When reserving for a half-day you can specify when you would like your half-day to start, which is a nice option and they are a little flexible on the return time as well.
We tuned up a bit early, got our helmets, watched the safety video, went over the operating instructions for the vehicles and used the restrooms one last time as there are no facilities on the trail other then what Mother Nature provides. Helmets are now mandatory, but lots of people take them off once they leave the rental lot. Each ATV is equipped with a cooler full of ice and bottled water and a full tank of gas, which is all included in the rental price. You are welcome to bring your own drinks and food as well.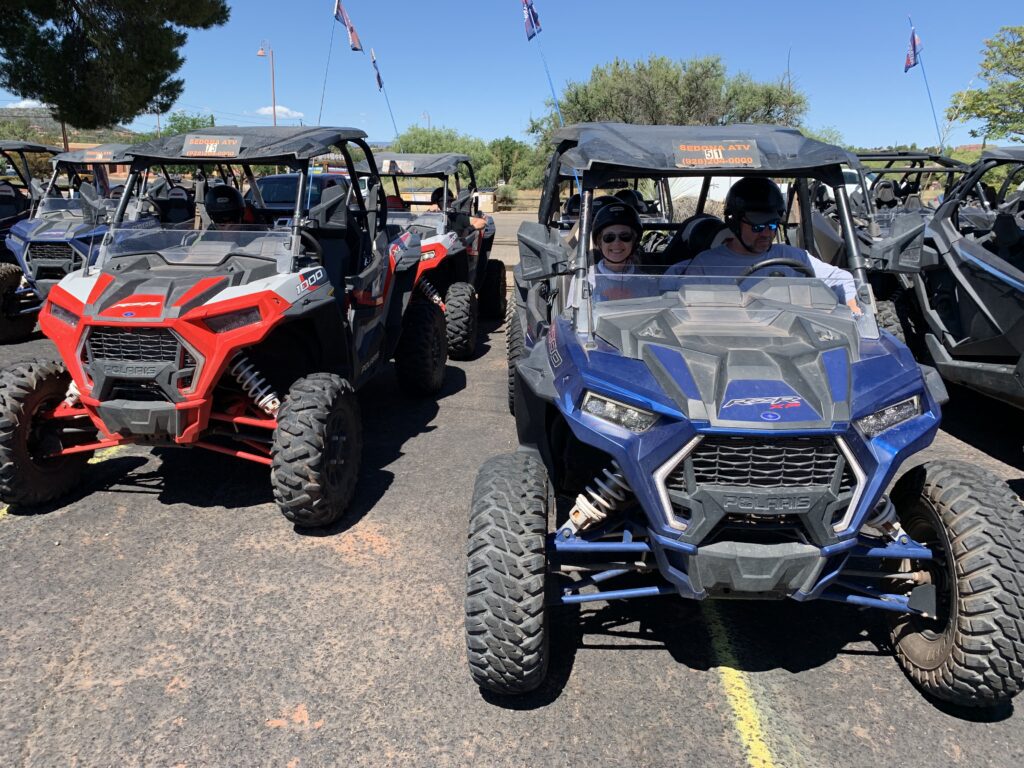 Getting to the Trail
Incase you were wondering, its legal to drive ATVs on the roads in Sedona. As shown on the map to the right, we drove through town along State Route 89A east until we reached the second round-about where we turned right onto State Route 179 heading south. We stayed on this road until we reached Morgan Rd. and turned right onto it. We followed Morgan Rd. until we saw signs for the Broken Arrow trail head parking and turned off there. We continued past the parking area and onto the dirt road. It wasn't long until we reached what looked like the end of the trail, but there was a massive rock to the right with a sign next to it warning that if you can't climb the rock turn back here. Now the fun began.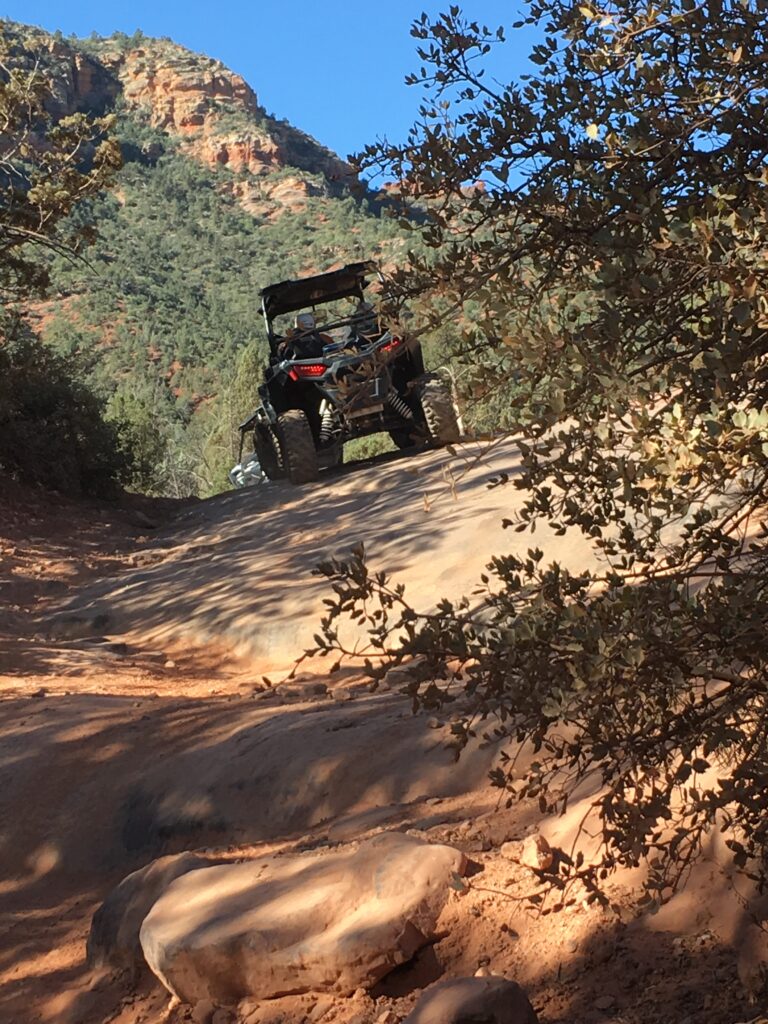 On the Trail
We put our ATVs into 4 wheel drive mode and they climbed right up the rock. You don't need to go very fast as these are very capable machines and will tackle any of these obstacles by simply going slow and steady in 4 wheel drive. From here on out we would be in 4 wheel drive until after the decent of the Devil's Staircase.
Remember to keep an eye out for other vehicles as this is a popular trail. You will most likely encounter a few Pink Jeeps as well as other off-roaders. There are several off-road tour companies that take you to different off-road trails in the back of open-air Jeeps and Hummers. The biggest and most popular are the Pink Jeeps, but there are a number of other operators, some specializing in western tours, spiritual tours, etc. Once you see a Pink Jeep do an obstacle it gives you more confidence that you can do it in your ATV.
Submarine Rock
The Broken Arrow off-road trail is a lollypop trail with a two-way road leading to a one-way loop with a couple of off-shoots. The first off-shoot to the left takes you to Submarine Rock, so named because, at a distance, it looks like a submarine. There's a nice little climb up into the parking area for Submarine Rock. We got out, climbed to the top of Submarine Rock and explored a little before getting back on the trail.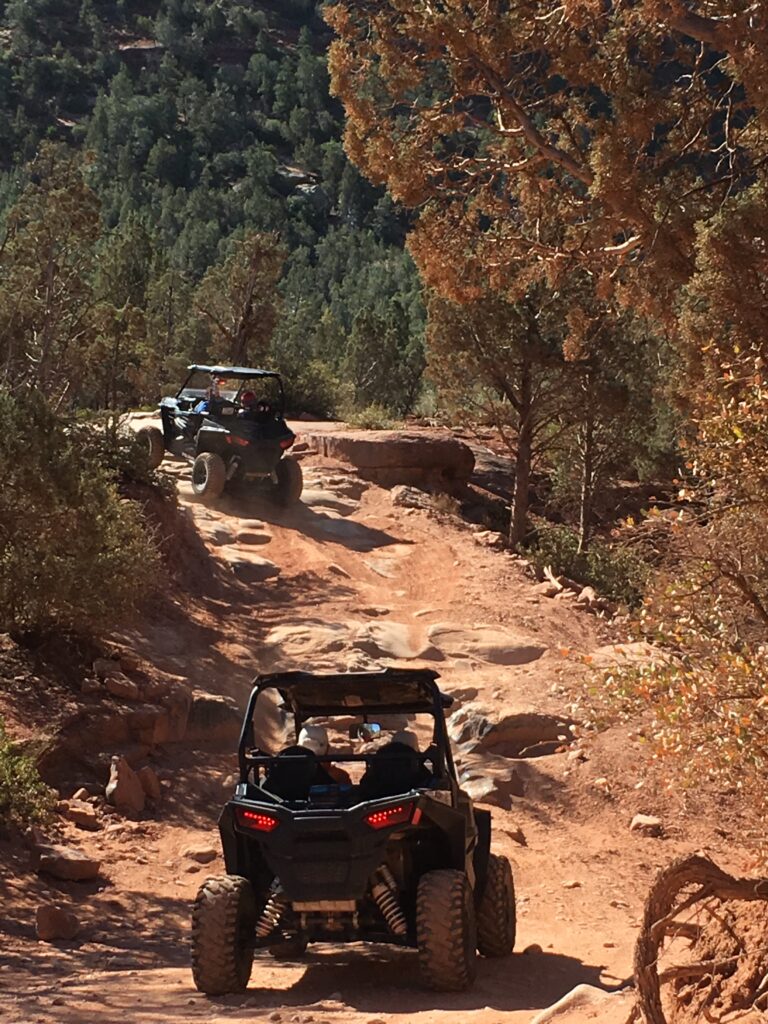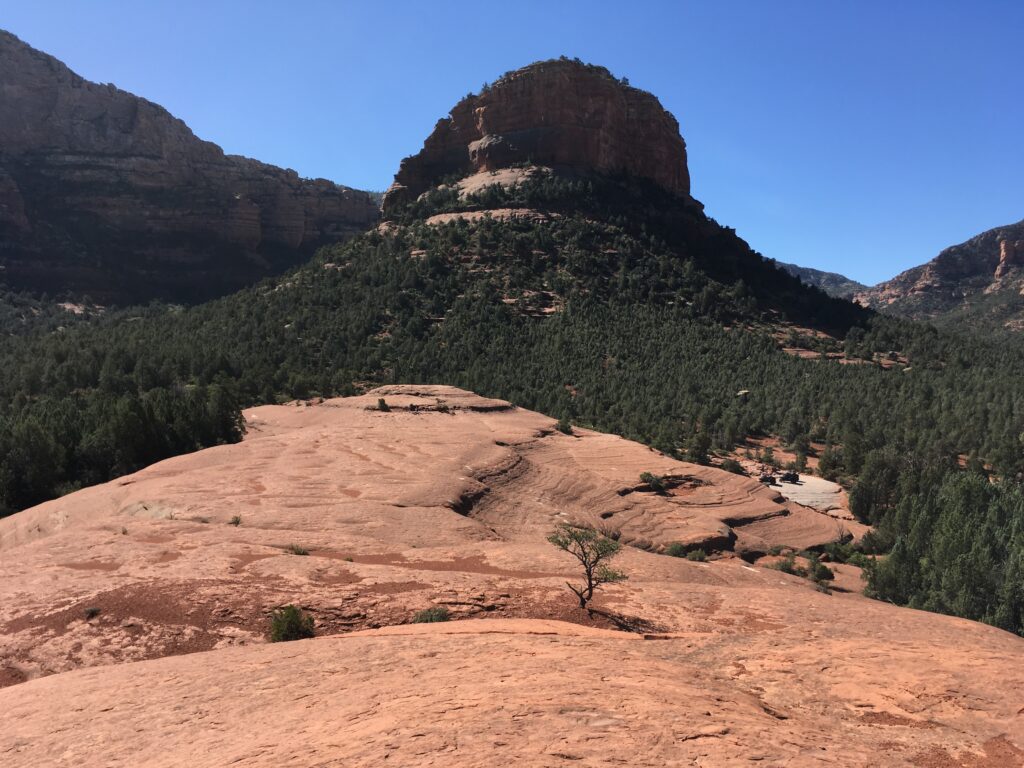 Chicken Point
We drove back to the main loop and continued on to Chicken Point, which offers stunning views to the south across the valley. Rumor has it that this place got its name because off-roaders used to drive out here and challenge each other to see who could drive closet to the edge without chickening out. Of course you can no longer do that as the actual Chicken Point area is blocked off.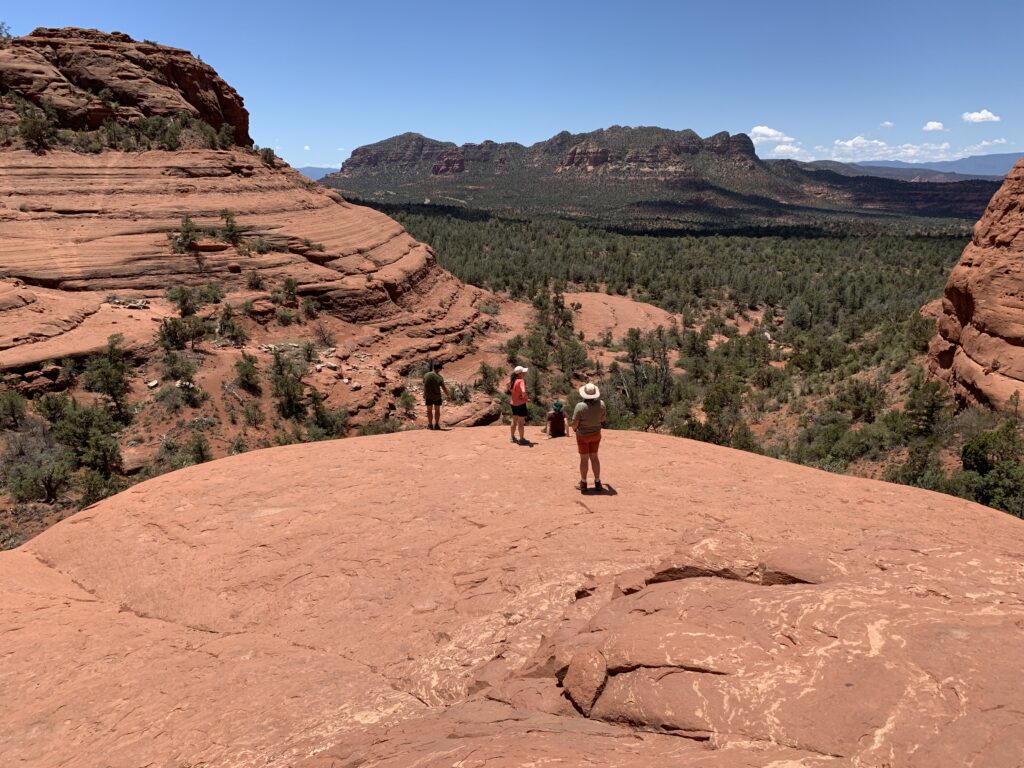 Mushroom Rock
After walking around Chicken Point for a bit we drove off to Mushroom Rock. You can stop anywhere you want, but it's considered bad off-roading etiquette to park in the main off-roading line. Sometimes it feels like no-one else is out there with you then suddenly a couple of Pink Jeeps come around the corner.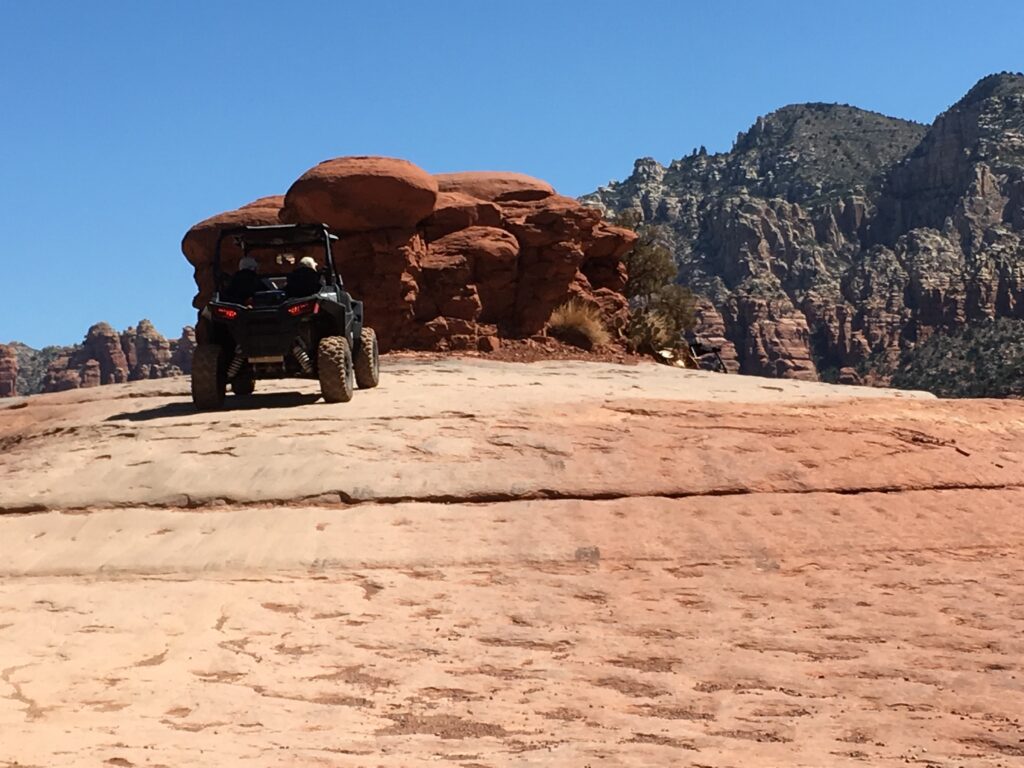 We stoped at another area just past Mushroom Rock that had a few optional obstacles to try. There were a couple of short steep climbs as well as a 4 foot deep trench you could try to climb up or down. We tried a few of the climbs going both up and down and I tried to go down the trench, but that didn't go quite to plan. I think the wider wheelbase of a Jeep would do better here as the right side of my ATV slid into the trench as I was trying to go down. Your supposed to keep your vehicle balanced with each side staying at roughly the same height of the trench as you descend.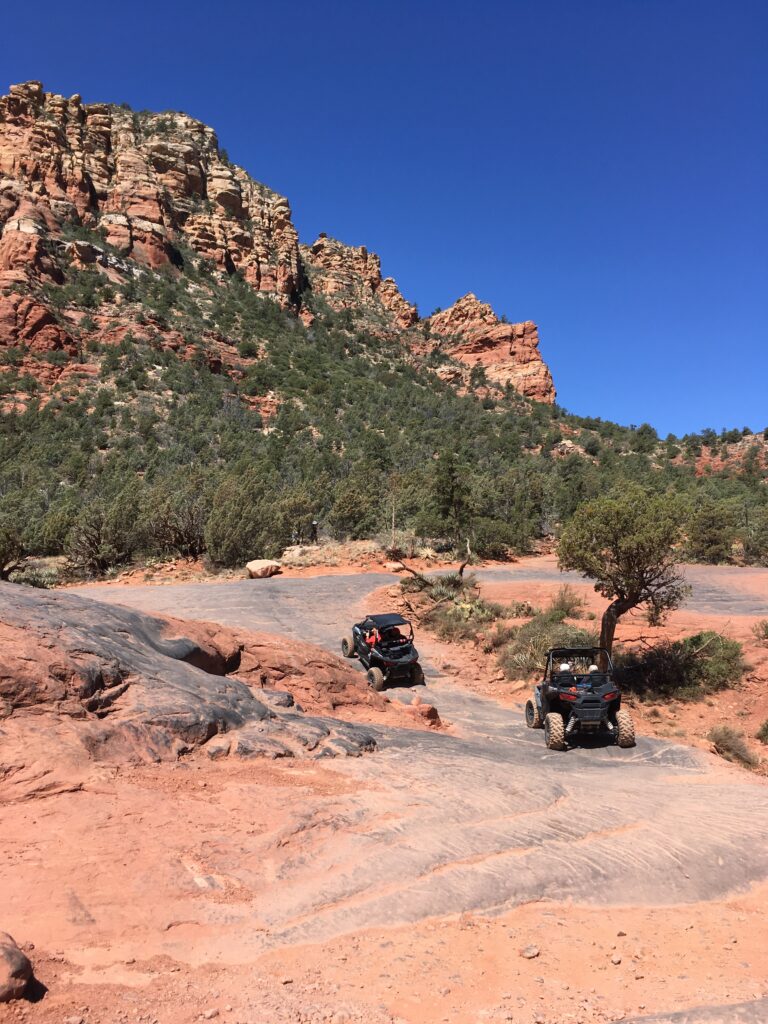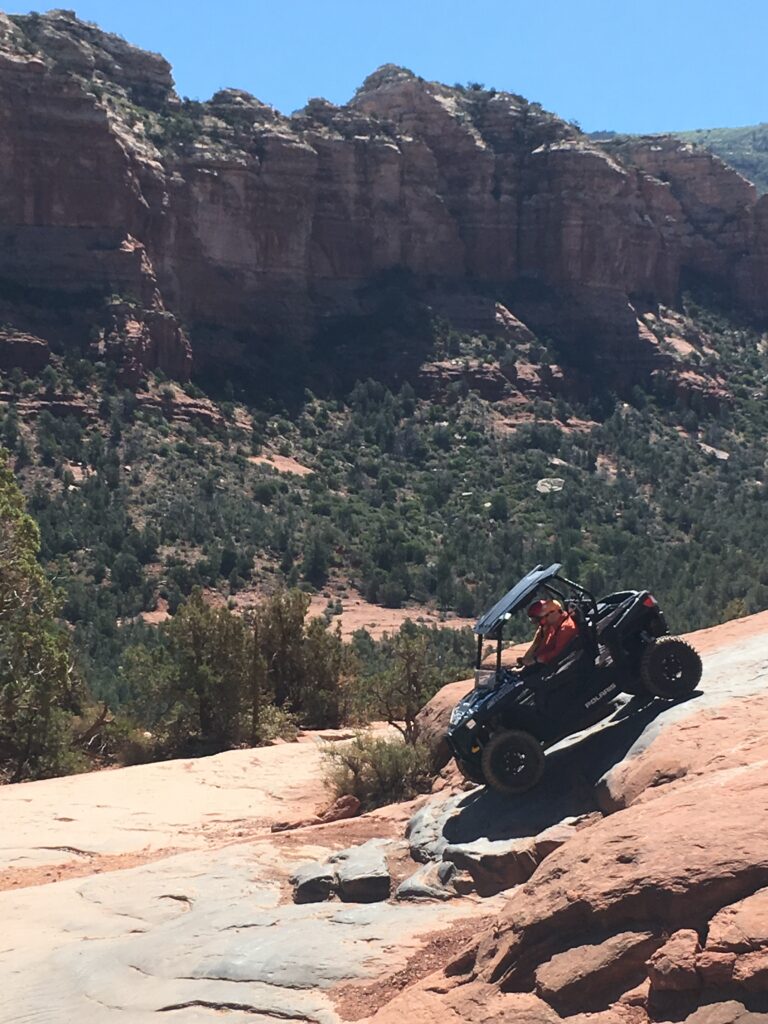 The Devil's Staircase
This is the last major obstacle on the Broken Arrow off-road trail. Its a steep decent with large rock drop-offs that you have to negotiate. It looked very intimidating from the top, but once you get started it isn't so difficult. We put our ATVs in 4 wheel low to help control the speed and took it slow and easy. Now its just a short drive back to the two-way section (handle of the lollypop), back to the trail head and back to Sedona ATV.
Returning the Razors
Once we got back to Sedona ATV they quickly checked over the vehicles for any damage while we got all of our belongings, gave us the all clear and we were free to leave. It took us a leisurely 3 ½ to 4 hours to complete the entire ride including getting to and from the trail.
We've done this trail twice now and we've done some other off-road trails around Sedona as well. We don't have any special off-roading skills and have taken people on the Broken Arrow trail who have never driven that type of terrain before and no-one has had any problems. It can get very hot and dry in Sedona in the summer months so it's good to drink lots of water when you're out on the trail. A hat and sun glasses are also very useful as you'll want sun protection as well as eye protection since the ATVs don't have a windshield.
Afterwards
After we finished up at Sedona ATV we went to the Oak Creek Brewery & Grill in the Tlaquepaque outdoor shopping center for a late lunch. There are also a number of other dining options there along with interesting shops and art galleries where we walked off lunch and did some souvenir shopping.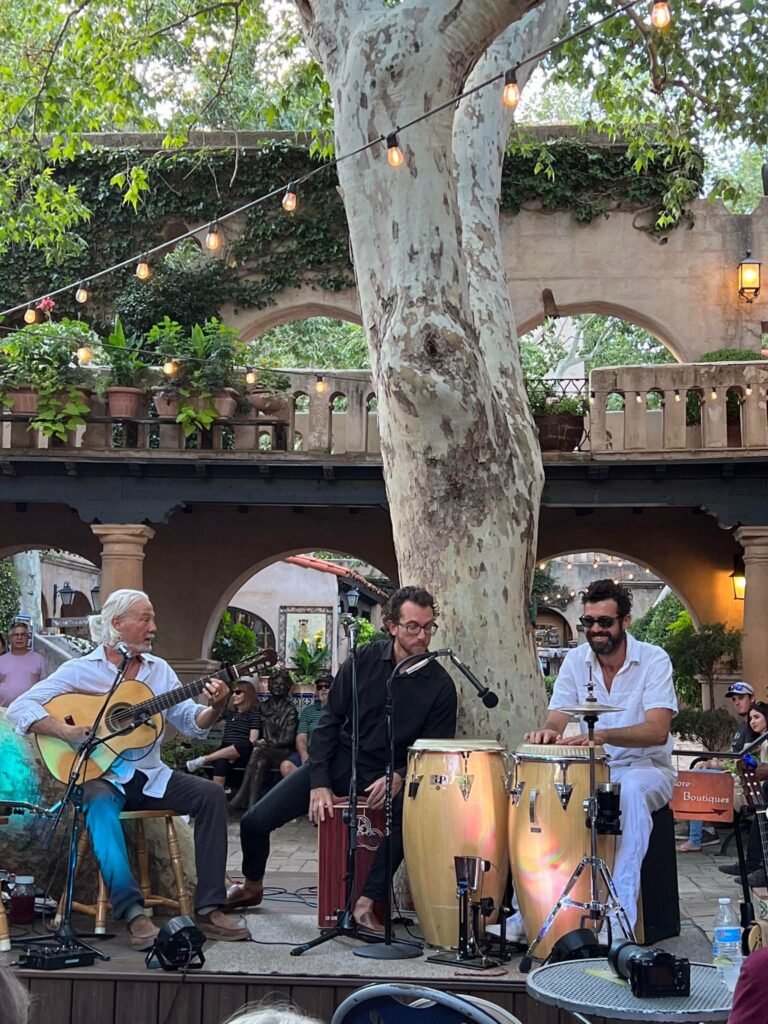 Additional Resources
TrailsOffRoad YouTube Channel has a great 18 minute video on the Broken Arrow off-road trail that gives you a great overview of the entire trail including some of the optional obstacles and how to do them.
Related USATourist Articles
Arizona Travel Guide