This article provides an overview of things to see and do in Arizona, including major cities and attractions, along with useful links to other websites for additional travel related information.
---
At a Glance
Arizona, the Grand Canyon State, is located in the southwestern United States just east of California and just north of the Mexican Border. It is most famous for the Grand Canyon, but the state also has many other wonderful attractions and a wide variety of climates. Arizona's climate varies considerably, from the stark beauty of the warm dry Sonoran desert to the high cool mountains in the northern part of state. The elevation changes dramatically from 70 feet (20 meters) on the Colorado River south of Yuma, to 12,633 feet (4 km) at the San Francisco Peaks north of Flagstaff. In Arizona you can water ski one day and snow ski the next.
Don't have time to read the entire article or just want the abbreviated version? Check out our article, Top Travel Destinations in Arizona to find out the most popular places to visit.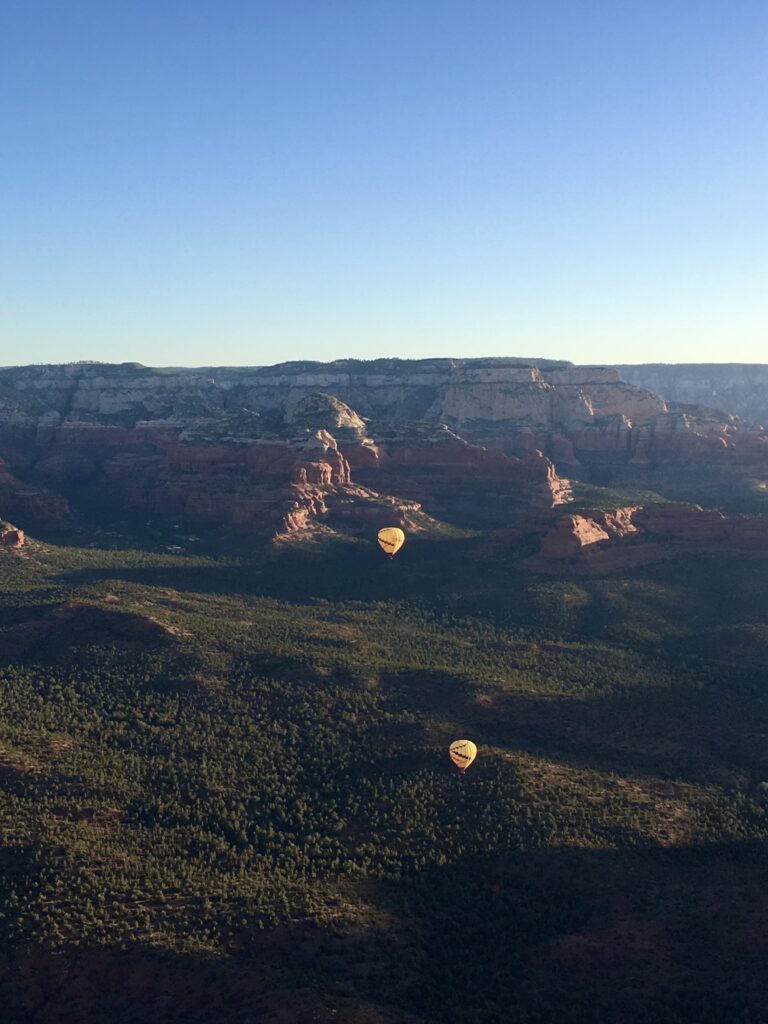 Arizona typifies the Southwest. It exhibits a colorful Native American (Indian) flavor blended with a powerful Spanish heritage. It is home to the largest Indian reservations in the USA. Spanish Conquistadors established settlements near the present site of Tucson in 1539. But, Arizona's history as a cattle-producing state makes it the home of that famous icon of the old west- the American cowboy. Arizona can be divided into five regions for the purposes of describing where the most popular tourist attractions are located. They are North West Arizona, North Central Arizona, North East Arizona, Central Arizona and Southern Arizona.
North West Arizona
Major Attractions
Grand Canyon West
Grand Canyon West (Hualapai Indian Reservation) is narrower and not as deep as the north or south rims, but provides a more intimate view of the canyon if that's possible. In addition, this part of the canyon is on Hualapai reservation land so the strict rules that apply in the Grand Canyon National Park do not apply here. You can take a walk on the glass-bottomed skywalk that juts out over the canyon, zip-line, take a helicopter ride into the canyon and many other activities.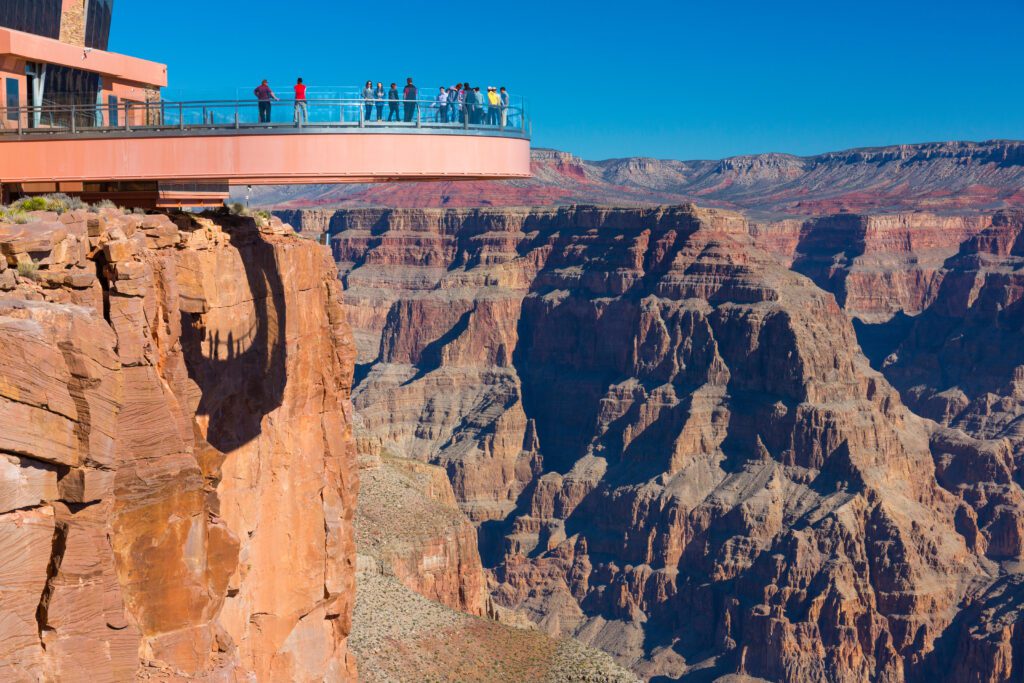 Grand Canyon-Parashant National Monument
Although Grand Canyon-Parashant National Monument looks to be just west of the Grand Canyon National Park and north of Grand Canyon West on a map, it is a very difficult park to get in and around. You will most likely need a decent off-road vehicle and should probably travel in pairs encase one of the vehicles gets stuck and needs to be winched out.
North Central Arizona
Major Cities and Towns
Page
Page is a small town located just south of the border with Utah at the intersection of State Route 89 and State Route 98. Its main attraction is that is is located just south of the Glen Canyon National Recreation Area and north of Antelope Canyon so it's a great place to base yourself out of when exploring this region of Arizona. It has a variety of accommodation and dining options as well. Page is also a great place to base yourself out of when visiting Vermilion Cliffs National Monument, Horseshoe Bend and Waterhole Canyon.
Major Attractions
Glen Canyon Recreation Area
The Glen Canyon National Recreation Area consists of the Glen Canyon reservoir also known as Lake Powell, Glen Canyon Dam and sounding area. There are several campgrounds in the park that go from accommodating the largest rigs to backcountry camping. You can also rent various types of watercraft or a half or whole day and house boats for several nights. The water level at this reservoir gets lower every year so make sure you check with the park if you want to rent a motorized boat. Glen Canyon Dam conducts tours and there are several visitors centers.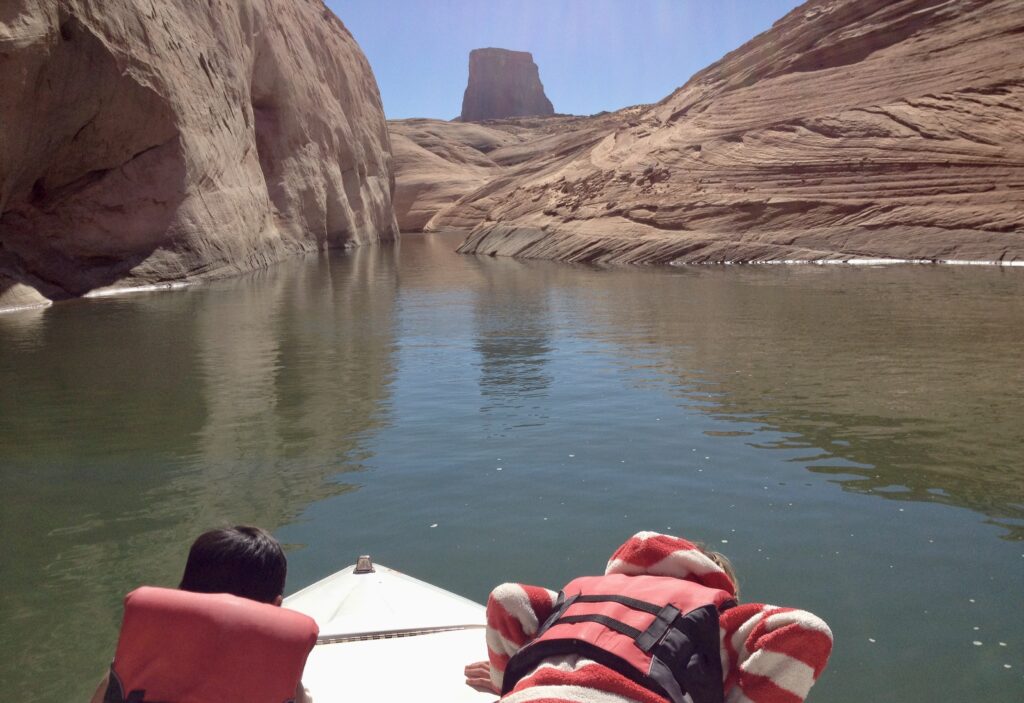 Antelope Canyon
The only way to see Antelope Canyon is on a guided tour and the only people who can conduct these tours are Navajo guides. When we've done this a number of years ago we simply pulled into the parking lot, paid someone in a booth and went on the tour. But now there are lots of websites offering these tours with online booking capabilities. However, since we've not done this before and there are so many different websites we've simply linked to the TripAdvisor site above as we cannot endorse any of the tour operators at this time. That doesn't mean that they aren't legitimate, we just don't have first hand experience with any of them and wouldn't want to guide you in the wrong direction.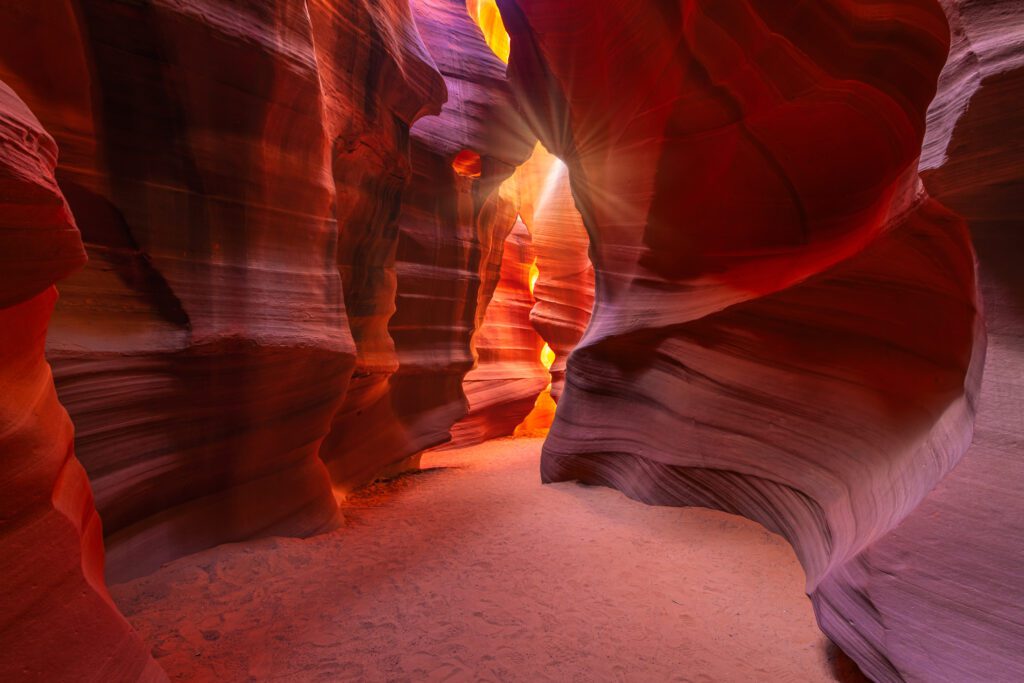 This is a spectacular canyon and should not be missed. There are actually two parts to this canyon, and upper and lower part. It is worth doing both if you have time, but if you can only do one we recommend the lower part as it is deeper and is where you fill find the classic photo shots like the one above.
Vermilion Cliffs National Monument
Vermilion Cliffs National Monument is very large consisting of 280,000 acres of land that can be accessed from both Arizona and Utah. The Arizona access is via U.S. Highway 89 to U.S. Highway 89A. The famous "wave" formations are accessed from Utah via an unpaved road that can be dangerous when wet and muddy. Most people are content to view the cliffs from U.S. Highway 89A, but the more adventurous may choose to venture further into the park. Check with the website above for any road closures, dangers and permits that may be required.
Horseshoe Bend
Horseshoe Bend Most people take the 1.5 mile (2.4 km) round-trip from the north end of the parking lot to a fenced overlook where you can take the iconic picture of the giant bend in the Colorado River or venture to either side of the overlook for a barrier-free view. Just don't fall as it's more than 1000 feet to the river below. Horseshoe bend is technically in the Glen Canyon National Recreation Area, but the parking lot is owned by the City of Page so there is an extra parking fee you'll have to pay even if you have a National Park Pass. Visit Arizona also has a good article on this park.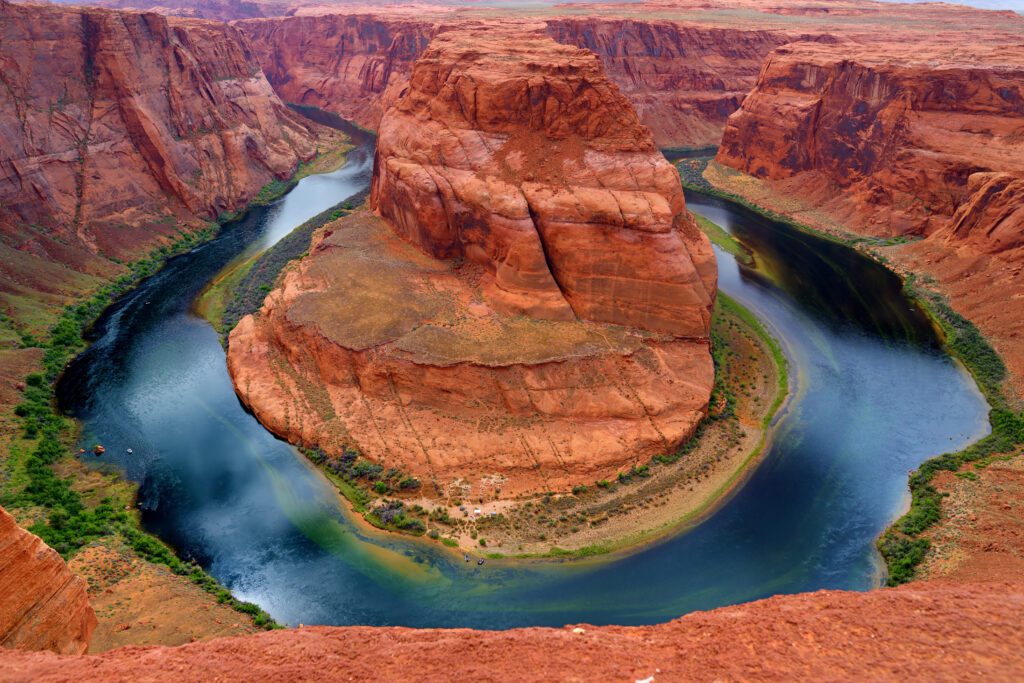 Waterhole Canyon
Waterhole Canyon is on the Navajo reservation just 5 miles (8 km) south of Page so you will need to book a tour with a Navajo approved tour operator. Waterhole Canyon is actually comprised of 3 different slot canyons and the tour company linked above takes you to all three. This tour is a bit pricy, but is generally not as crowed and they don't rush you through as quickly as Antelope Canyon tours and the canyons are not as narrow either.
Grand Canyon National Park
The Grand Canyon National Park is accessed via the north rim or south rim entrances. The south rim is the easiest to get to and is also the most popular while the north rim is more remote, but not as busy. One of the 7 wonders of the world and a UNESCO Heritage site, it's hard to take this place in because of the sheer enormity of it. The most popular activities are hiking and scenic drives, but there is so much more to do if you have the time and energy.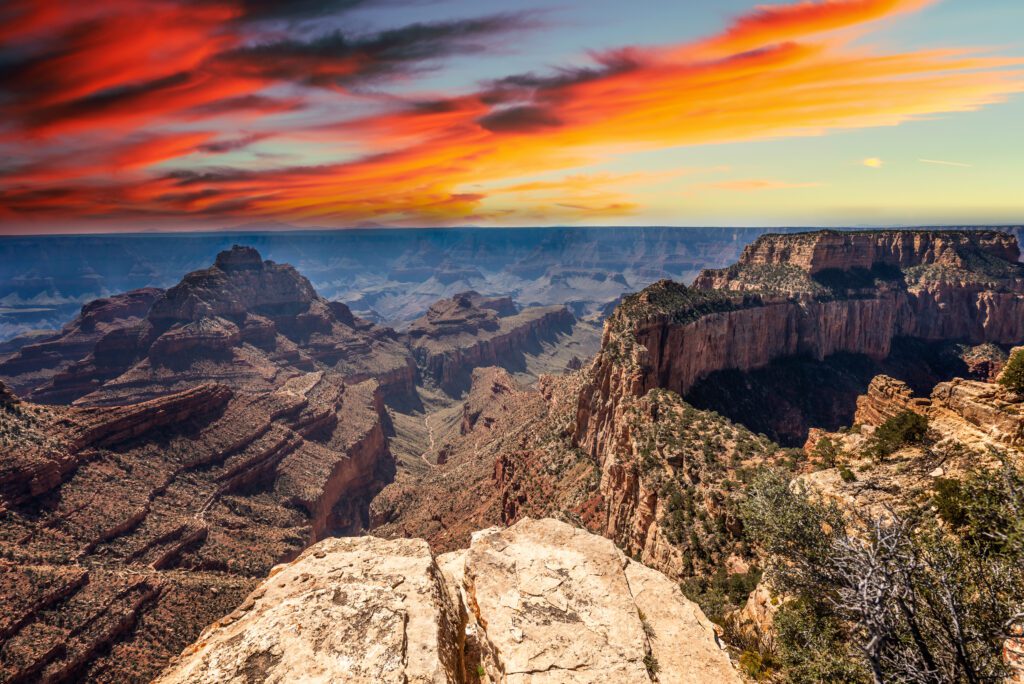 North East Arizona
Major Attractions
Monument Valley
The Monument Valley area, famous for its iconic buttes, straddles the border between northeast Arizona and southeast Utah. If you drive on State Route 160 or 163, which go through lands owned by the Navajo Nation, you will be able to see some of these buttes from the highway. If you want to experience formations like The Mittens, Merrick Butte, John Ford Point, Artist's Point, The Thumb, Three Sisters or The Cube you can enter the Monument Valley Navajo Tribal Park and drive the 17 mile (27.4 km) gravel and dirt road loop or take a guided tour. However you choose to see this amazing area it will not dissapoint.

Four Corners Monument
The Four Corners Monument is located just off State Route 160 at the point where four states meet: Colorado, Utah, Arizona and New Mexico. It is located on land owned by the Navajo Nation and operated by them as well. There is a parking/entrance fee to get into the monument and, aside from being able to stand in four states at once there are a number of booths for local Navajo vendors selling arts, crafts and souvinors. There is also a small food stand in the parking area serving traditional fry bread, hot dogs and tacos. I wouldn't go out of my way to visit this attraction, but if you happen to be driving through the area or Monument Valley it is worth a visit.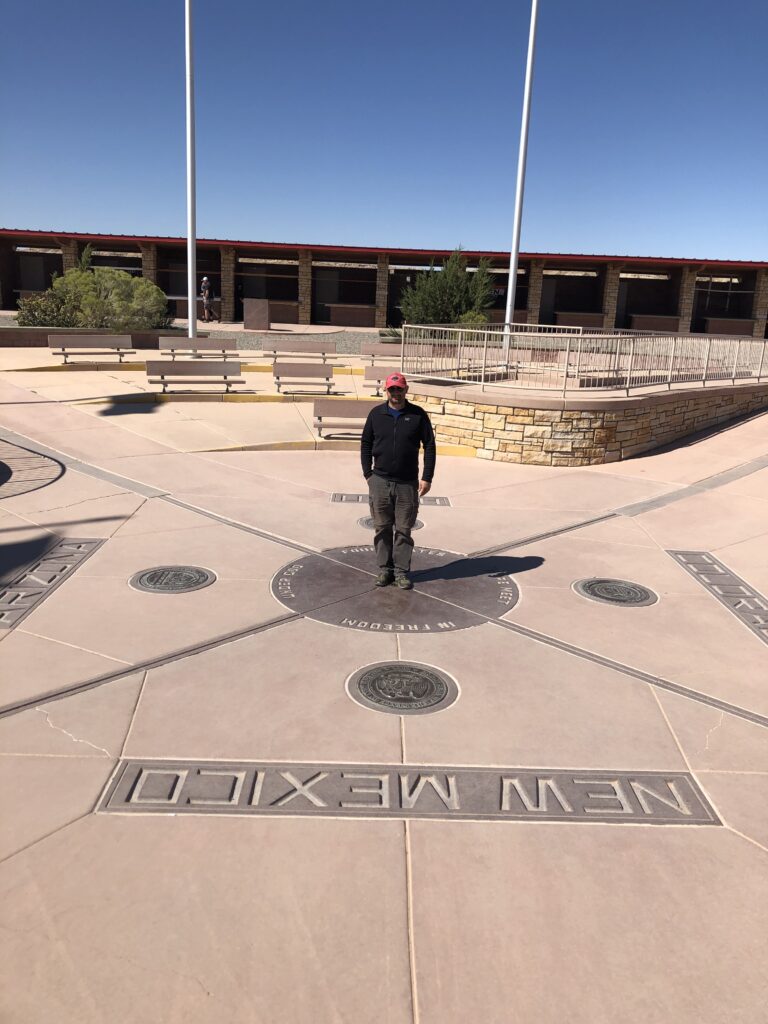 Central Arizona
Major Cities and Towns
Phoenix
Flagstaff
Flagstaff is a relativity small city located at the junction of Interstates 40 and 17. Sitting at an elevation of 7,000 feet (2,135 m) its much cooler than those cities further south. There are plenty of outdoor activities to do here and Flagstaff is a great base out of which to explore some of the nearby attractions.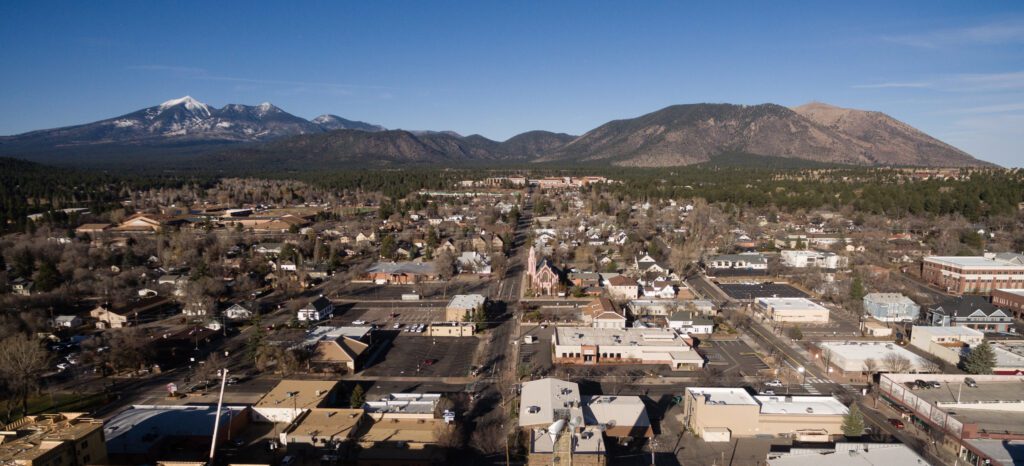 Winslow
Winslow, located at the junction of State Route 87, 99 and Interstate 40, is a fairly small town, but there is a Walmart as well as several hotels and restaurants and a regional airport. It was made famous by a line in the Eagles song "Take It Easy" and goes like this: "Well, I'm a-standin' on a corner in Winslow, Arizona and such a fine site to see, It's a girl, my Lord, in a flat-bed Ford slowin' down to take a look at me." The intersection that this song made famous actually has a flatbed Ford, a few statues and some other Route 66 related attractions since this historic road had once gone through this town.
Sedona and Surrounding Area
Sedona, the Village of Oak Creek, Cottonwood and Jerome are all in the same general area.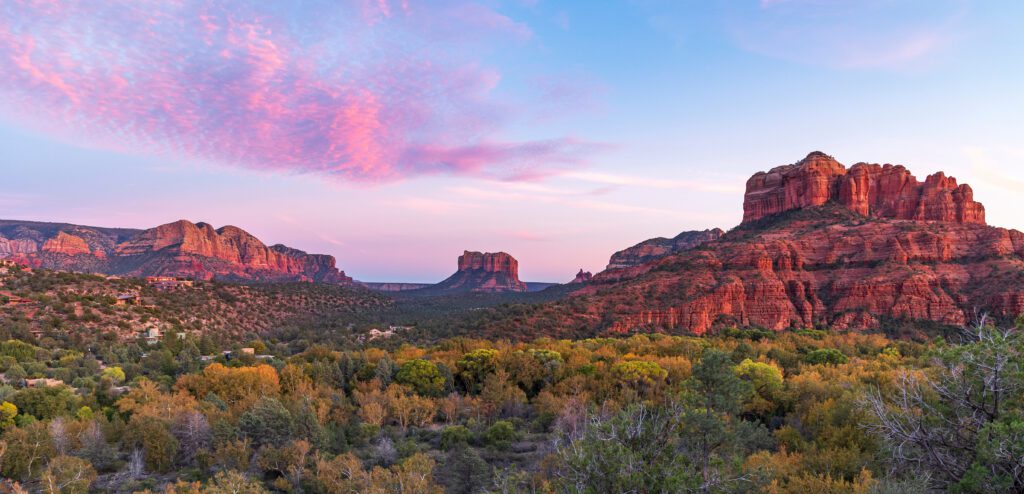 Major Attractions
Lowell Observatory
The Lowell Observatory is just on the northwestern edge of Flagstaff. They offer various tours, exhibits and activities and is well worth a visit. If you go to just one observatory in Arizona it should definitely be this one.
Walnut Canyon National Monument
Walnut Canyon National Monument is just a short drive east of Flagstaff and provides visitors who take the 1 mile (1.6 km) Island Trail with up close access to 25 ancient pueblo cliff dwellings.
Honanki and Palatki Heritage Sites
Honanki Heritage Site and Palatki Heritage Site are both located just west of Sedona off Forest Road 525. These sites are normally accessible by normal road vehicles. Hanonki Heritage Site is a little further away from Sedona and Palatki Heritage Site is a little closer to Sedona. Both sites allow visitors to view up close ancestral Hopi cliff dwellings and rock art.
Meteor Crater
Meteor Crater is located a short distance off Interstate 40 about halfway between Flagstaff and Winslow. You can view the crater, visit the museum and discovery center, watch a movie about the crater, experience their 4-D theater and take a guided tour of the rim. They also have a cafe and campground.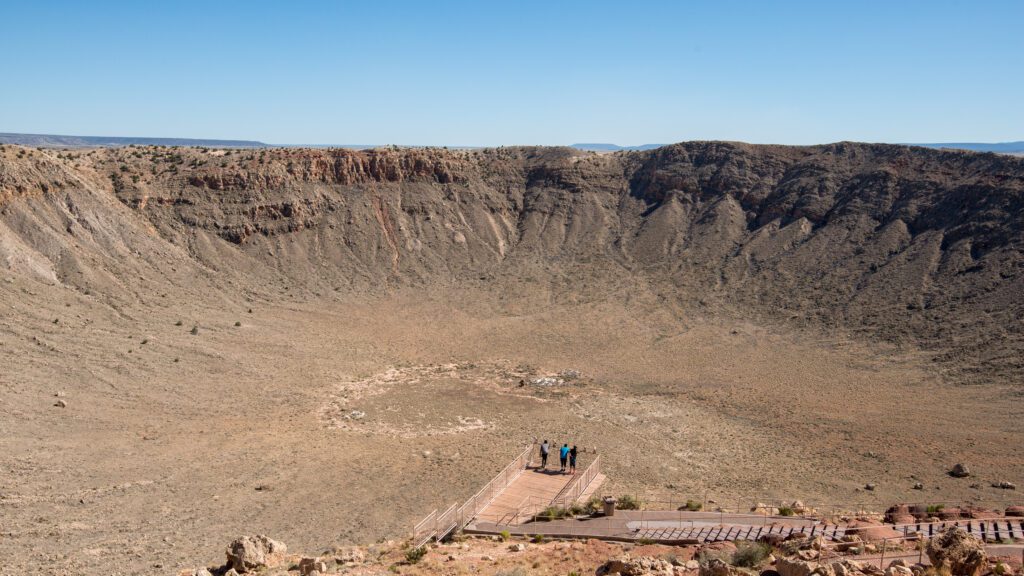 Slide Rock State Park
Slide Rock State Park is located just north of Sedona on State Route 89A. This park mainly known for its natural water slide and can get very busy in the summer months.
Red Rock State Park
Red Rock State Park is located just to the south of Sedona off of Red Rock Loop Rd. This park has a visitors center, hiking trails and various guided activities. This park looks nice, but there are so many hiking trails and other activities to do in and around Sedona we never thought it was worth it to pay extra just to visit this park.
Southern Arizona
Major Cities and Towns
Tucson, located at the junction of Interstates 10 and 19, is one of the two major cities in Arizona and, because of its more southernly location, noticeability warmer in the summer months. Tucson is surrounded by the Sonoran Desert, which is known for its saguaro cactuses. Its a typical sprawling town, smaller than Pheonix, with streets laid out in a grid pattern and no express ways running east-west through town so it can seem like you have to go through an endless number of traffic lights to cross town. But Tucson does have a fantastic restaurant scene and has even received the title UNESCO City of Gastronomy. This city's culinary scene specializes in blending Mexican and Native American traditions for a truly unique dining experience.
Major Attractions
Arizona-Sonora Desert Museum
If you only see one attraction in Tucson it should be the Arizona-Sonora Desert Museum. This is a fantastic museum to visit for children and adults and has both inside and outside exhibits.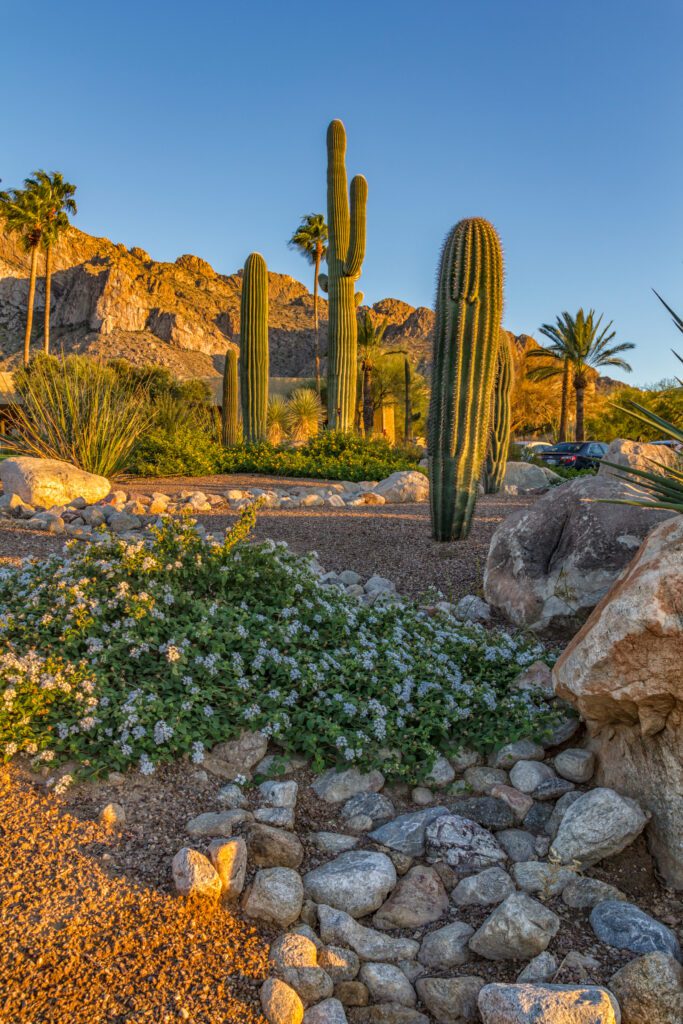 Saguaro National Park
Saguaro National Park consists of two separate areas: Tucson Mountain District is located east of Interstate 10 while Rincon Mountain District is located west of Interstate 90 and the city of Tucson. This park mainly offers hiking and mountain trails, but also has some back-country camping, petroglyphs, and various other outdoor activities.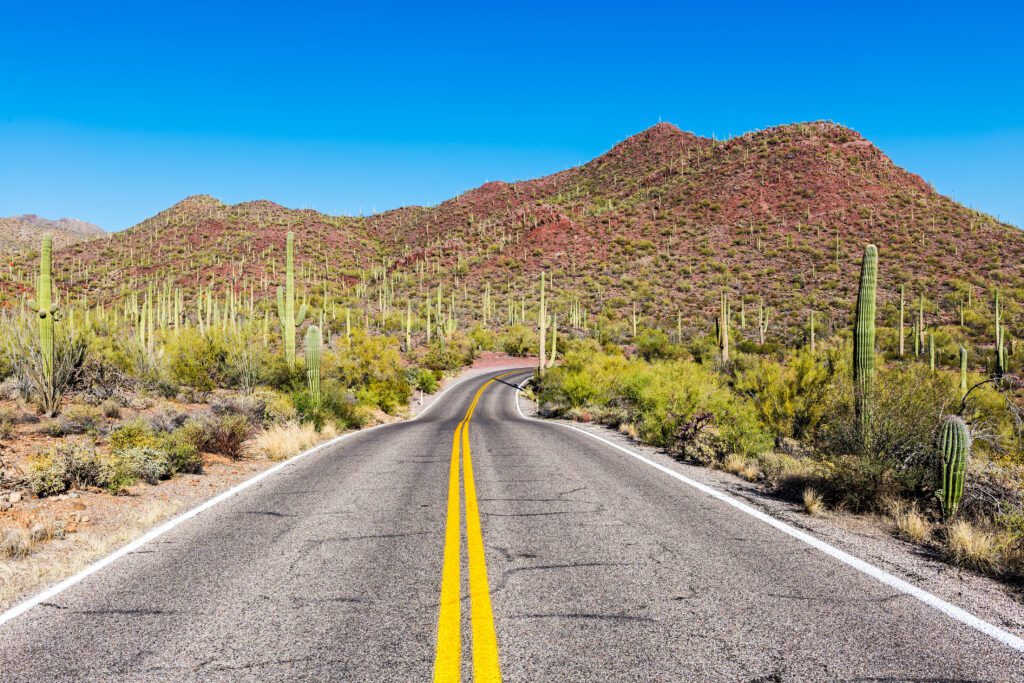 Tucson Mountain Park
Tucson Mountain Park is a Pima County park that mainly offers hiking, mountain biking and horseback riding trails. However, they do have a nice looking campground that allows tent and RV camping with RV sites having 30 Amp electric only hookups. Water is available throughout the campground and there is a dump station and bathrooms with flushing toilets, but no showers.
Pima Air & Space Museum
Pima Air & Space Museum has 5 hangars full of aircraft exhibits plus an aerospace gallery covering 250,000 square feet (23,226 square meters) indoors and a lot of interesting aircraft in their outdoor exhibit covering 80 acres.
San Xavier del Bac Mission
San Xavier del Bac Mission, founded in 1700 and located 9 miles (14.5 meters) south of downtown Tucson, is a great example of Spanish colonial architecture. The inside is just as beautiful as the outside.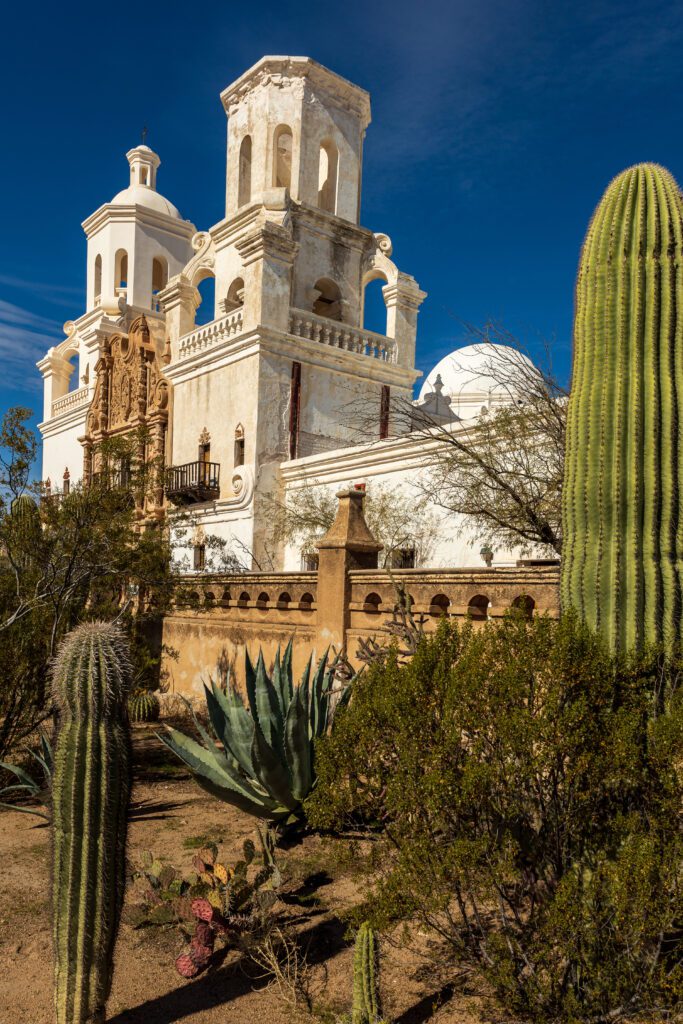 Kitt Peak National Observatory
Kitt Peak National Observatory is just over an hours drive from Tucson heading west on State Route 86 to State Route 386 and offers several types of tours. There is a Border Control checkpoint on State Route 86 and if you're not a U.S. citizen you'll need to present a valid passport or green card.
Fred Lawrence Whipple Observatory – Mt. Hopkins
Fred Lawrence Whipple Observatory – Mt. Hopkins is just under an hours drove from Tucson heading south on Interstate 19. There is a visitors center with exhibits and tours are offered as well.
Travel Tips
You can visit Arizona any time of the year, but the desert areas are most comfortable from October through April. Wear winter clothing at the higher elevations from November to March. Wear lightweight, very cool clothing in the lower elevations from April to October. Springtime, between March and May, is the best time to catch Arizona's landscapes in bloom.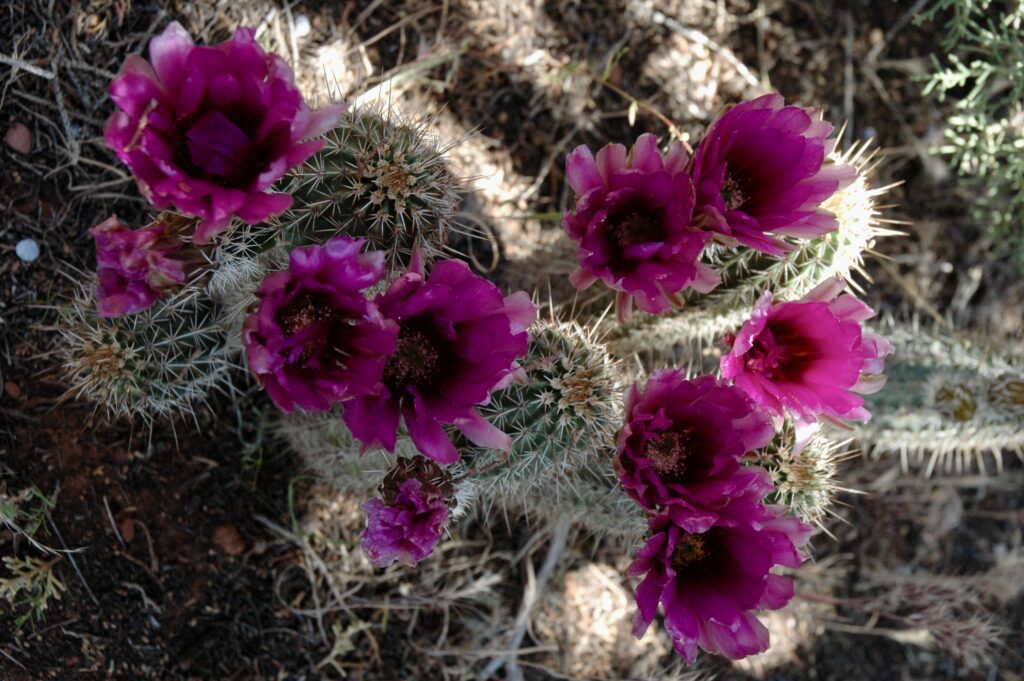 Arizona's climate is dry and very sunny, even in the higher elevations. Be sure to drink plenty of water and when hiking or driving, always carry water. Sunscreen or sunblock is recommended for most outdoor activities, even in winter – the mild climate can be misleading and sunburn occurs quickly. Wear comfortable, sturdy shoes for walking and never venture into the desert or wilderness areas alone. When camping, secure all food from predators and scavengers, and never put your foot into an empty shoe without first checking for scorpions.
Additional Resources
Arizona State Tourism Office (Visit Arizona)
Navajo Nation Tourism Site (Discover Navajo)
Related USATourist Articles
Hikes and Mule Rides from the Grand Canyon's South Rim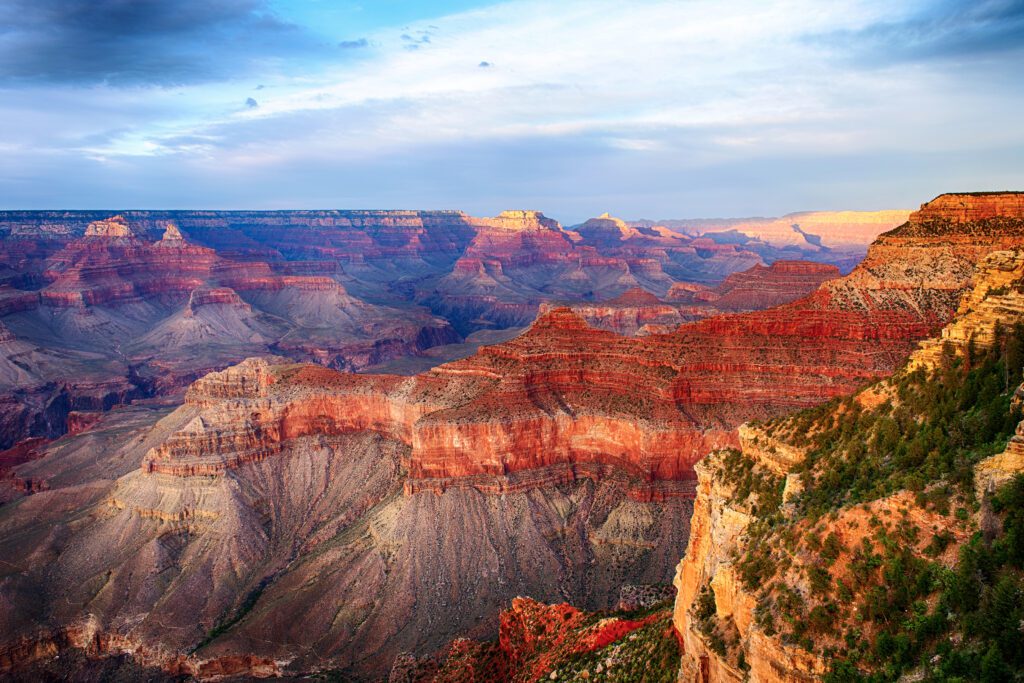 Route 66 Travel Guide