Car Rental Tips
Most major international car-rental agencies have offices in the U.S. It is impossible to say that any one company is the best as you may have good experiences or bad experience with the same company in different cities. For your convenience, we attached a list of links to the major car rental agencies in the U.S. at the end of this section.
Automatic Transmissions
Rental cars in the U.S. normally come equipped with automatic transmissions.  If you request a standard transmission, the rental company will probably have none available when you arrive as they are extremely uncommon. If you are travelling with children under 2-years of age make sure you have a child's car restraint seat or request one from the rental agency. It is illegal to carry small children in a car without safety restraint seats in most states.
Driving License
When driving in the U.S., you must have a valid driving license.  If you are coming from overseas, some states will require that you have an International Drivers Permit (IDP).  Visitors from other countries cannot apply for an IDP once they are in the U.S., so, if you need one, you must obtain it in the country that issued your license. Some rental agencies will not rent cars to anyone less than 25 years old. Other agencies will rent to young people but will charge a higher fee. Some agencies will not rent to anyone over 71 years old. Be sure to check on these restrictions if you are in these age categories.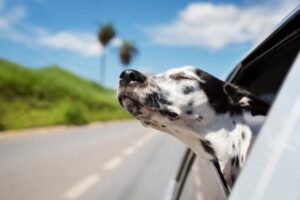 Best Car Rental Prices
Car rental prices are very competitive in most states and no single agency has the best prices every time. Prices change frequently and every agency offers many special promotions and competitive priced deals. If you spend some time shopping for the best price, you can often save money. Here are some tips on how to find the best prices and how to save money.
Car rental prices are most competitive in major tourist destinations like California and Florida. You can find some real bargain prices if you shop for the best deal. Some travel agencies or online booking sites offer special package deals that include airfare plus car rental or hotels plus car rental. You can search and compare rental car prices from various vendors on sites such as Rentalcar.com, Kayak.com, and Priceline.com.
Car Rental Insurance
Car rental agencies always offer collision damage waiver insurance (CDW) and theft insurance at exorbitant prices that can significantly increase the price of a car rental. You should not risk driving without insurance, but you can usually get such insurance at a much lower price. Check your automobile insurance at home to see if it will cover driving in the U.S., or use a credit card that provides free insurance when you rent a car. Check with the credit card issuer to be sure it provides such coverage for U.S. rentals. The American Express Company and some other travel agents offer special travel insurance that provides CDW coverage at a much lower price than the rental agencies. If you are spending a lot of time in the U.S., another option could be non-owner car insurance which gives you liability coverage.