This article describes a scenic off-road drive in Death Valley's Titus Canyon along with helpful tips and suggestions.
---
After visiting the usual tourist attractions in Death Valley National Park, we were determined to see some of the less frequented sights, and decided to explore one of the Backcountry roads. We chose the 26-mile (42 km) drive down Titus Canyon. Our guidebook recommended using a four-wheel drive vehicle, but said it was usually navigable with a car.
We set off early the next morning just after sunrise, and drove eastward up the slopes of the Grapevine Mountains to the high desert plateau near the Nevada border. At first, we missed our turn-off, because the "road" was little more than tire tracks across the desert. They call it a "washboard road" because the surface is corrugated with a continuous series of bumps and dips that keeps your tires dancing on the surface and keeps your teeth rattling in your head.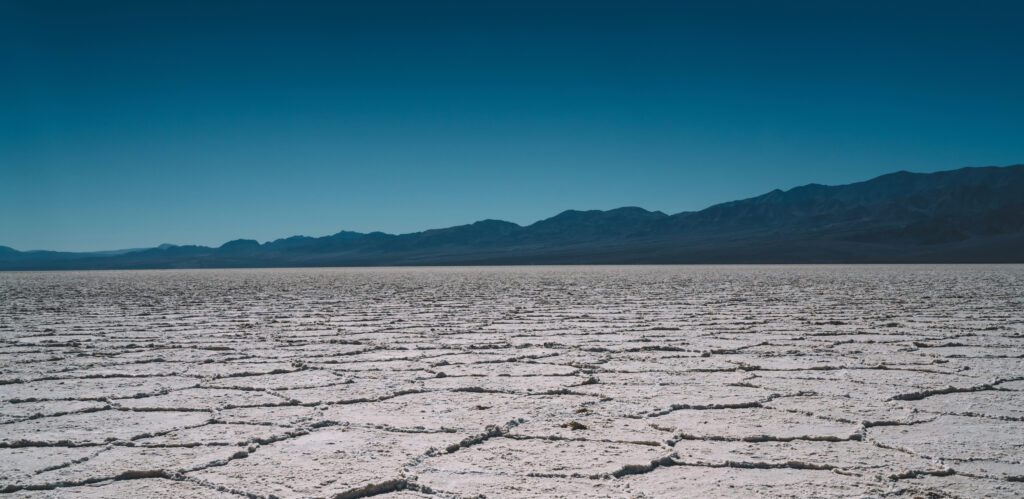 It was a beautiful morning, the sky was blue and the heat was less intense on this high plateau. Lizards and Horny Toads scampered off the road as we approached. Tiny desert ground squirrels no larger than mice scurried under the bushes.
A few miles into the desert, we saw a huge old Cadillac convertible floating on a cloud of dust toward us. As it drew near, we hailed the old "desert rat" driving it, and asked him if the Titus Canyon road was passable. "Waal" he said, spitting a mouthful of tobacco juice into the dust between our cars, "Ya should have a four wheel drive veehickle, but I reckon ya can make it."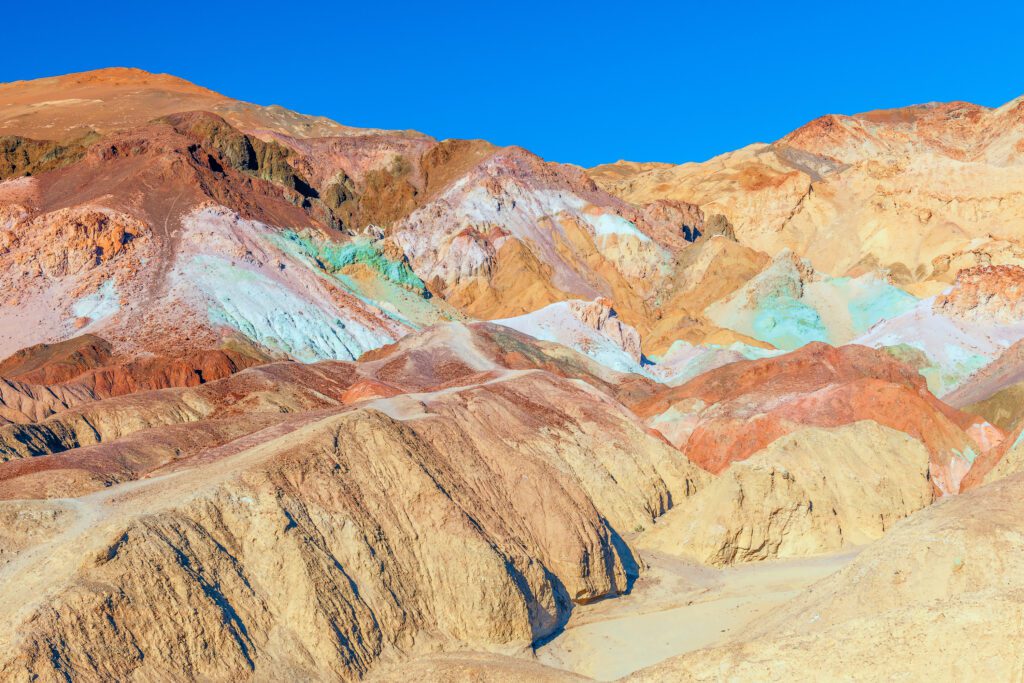 A short distance further, the rough desert road began climbing the upper slopes of the Grapevine Mountains to Redstone Pass. It was not hard to see how it got its name. The rocks, the dirt and the cliffs around us were all a deep red ochre color. The narrow dirt road dipped down into Titus Canyon with sheer drop-offs and no guardrails.
The scenery was spectacular. Death Valley stretched out at our feet with the Pannamint Mountains on the distant horizon. The canyon walls were composed of multi-colored rock layers and its floor was lined with high desert vegetation.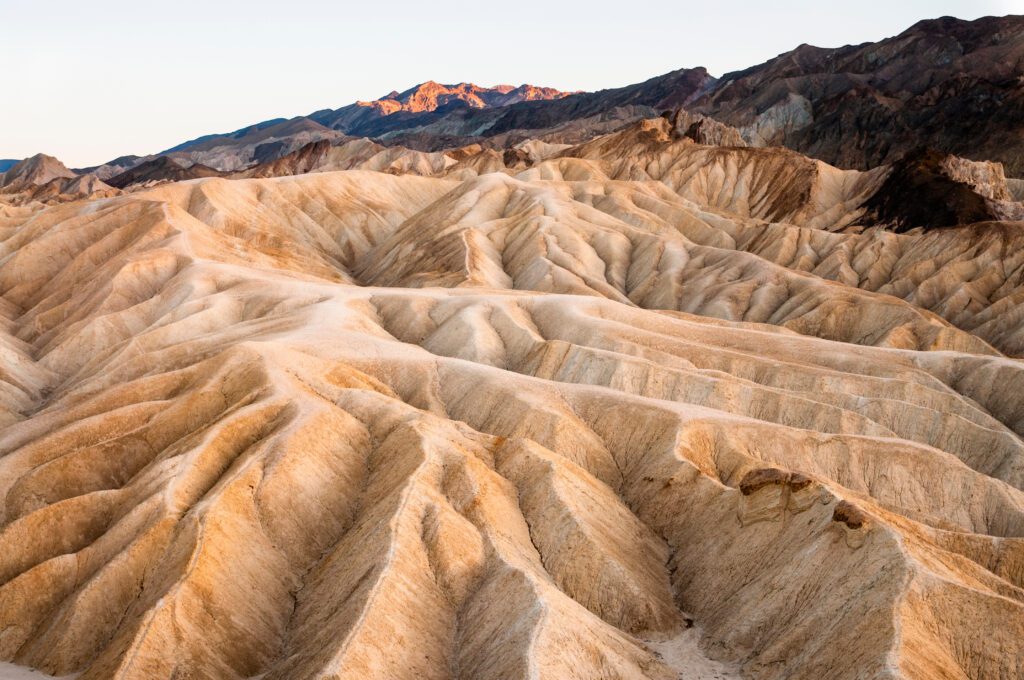 Several miles down from the summit, we entered the ghost town of Leadfield. Only a few structures remained, but the foundations of many others could be seen. Old mine tunnels burrowed into the canyon wall and the hulk of an old car sat rusting in the sun. Cactus flourished on the abandoned slopes.
Another few miles and we stopped at Klare Springs; one of the few sources of water in Death Valley. A tiny trickle emerged from the canyon wall and quickly disappeared into the sandy soil. Tracks of wild mountain goats surrounded the spring and Petroglyphs on the surrounding rocks silently testified that Native Americans had used this water supply centuries ago. A Jeep that quickly passed and disappeared into the canyon below startled us. It was our first sign of other humans in over six hours!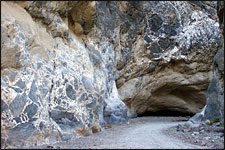 The canyon got much narrower as we approached the bottom. The floor was less than 40 feet (12 meters) wide with sheer walls rising hundreds of feet above us. Suddenly we came across a boulder-strewn washout that destroyed our road. As we wondered how our car could possibly cross it, two young men and a girl greeted us and offered to help. The Jeep that had passed us a mile up the canyon was waiting beside the road. They realized that we would probably need assistance here. With a lot of pushing and careful driving, we made it. After we profusely thanked them, they sped off down the canyon.
A short distance later, we emerged from the mouth of the canyon into the blazing heat of the floor of Death Valley. We had certainly seen a part of Death Valley that few tourists ever experience.
If you want to try a back road adventure in Death Valley, rent a four-wheel drive vehicle! Road conditions can change quickly and its better to have the ground clearance and 4 wheel-drive and not need it then to need it and not have it. Make sure you have a full tank of fuel! Take plenty of water and some food! Maps are available at the visitor center.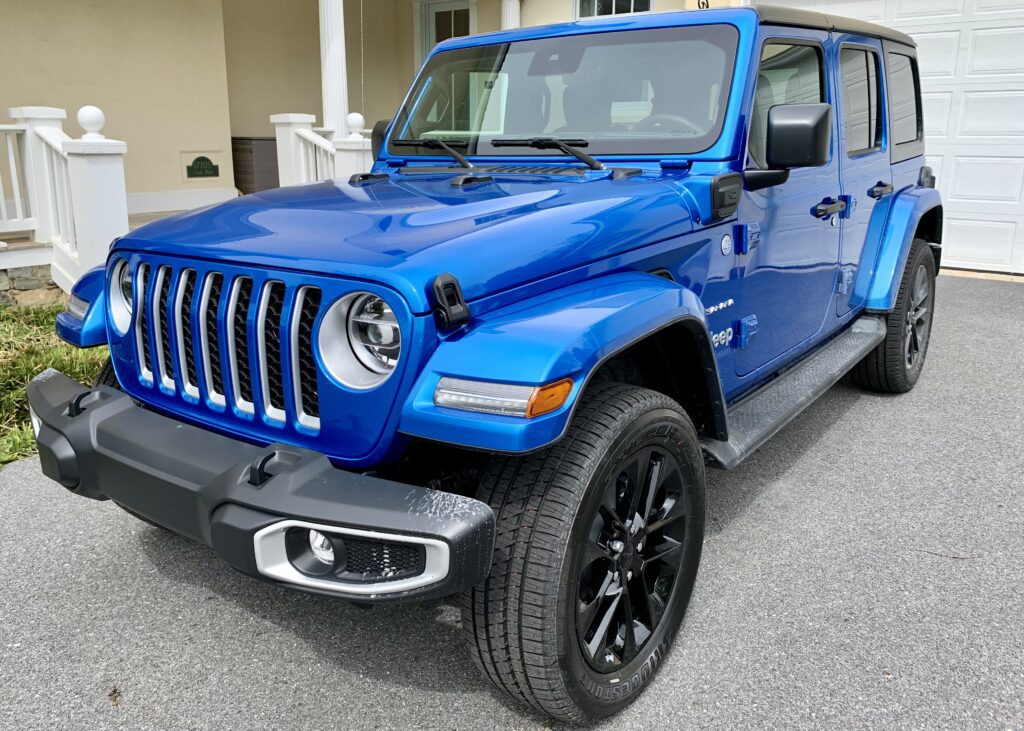 Death Valley Adventure Tip: Death Valley can get very hot in the summer. Very, very hot! Most tourists get out of their tour bus for a few minutes, take a couple of pictures and scurry right back into the air conditioned coach. Daytime temperatures can exceed 130 degrees Fahrenheit (50 degrees Celcius). On the gleaming white salt flats, ground temperature can reach as high as 150 degrees Fahrenheit (65 degrees Celcius)! Even in the night, the summer temperature seldom drops below 100 degrees Fahrenheit (38 degrees Celcius). To give you an idea how hot this is visitors are warned not to bring candles because they will melt in your car! The best time to visit Death Valley is between December and February.
Additional Resources
National Park Service Website for Death Valley National Park.
Recreation.gov – Death Valley National Park has additional information about this park including interactive maps, directions, accommodations and points of interest. Reservations and other fees can be purchased through this site as well.
California's State Tourism Site: Visit California – Death Valley National Park.
Nevada's State Tourism Site: Travel Nevada – Death Valley National Park.
Related USATourist Articles
California Travel Guide
Nevada Travel Guide